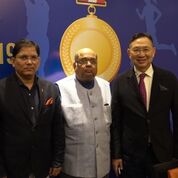 Mr. David Mui MH JP, the ASF's President, attended as the Guest of Honour of the book launch event for "Tamil Nadu's Quest for Gold" on 4 October 2019 in Chennai, India.
"I'm glad to be part of such a meaningful event. I would like to take this opportunity to congratulate Mr. N. Ramachandran on launching a book on the history of sports in Tamil Nadu," said Mr. Mui.
The book "Tamil Nadu's Quest for Gold", initiated by Mr. N. Ramachandran, Patron of ASF as well as the President of Tamil Nadu State Olympic Association records over 200-year history of sports, both Olympic and non-Olympic in Tamil Nadu, India.
After the event, Mr Mui had the chance to meet with Mr. Vinod Kumar Tiwari, Director – International & NOCs Relations of Olympic Council of Asia to discuss the development of squash in Asia. "I'm very happy to hear from Vinod that it would be very likely for squash to have five events including Mixed Doubles in 2022 Hangzhou Asian Games. It is definitely a very good and encouraging news for our member nations and players," said Mr. Mui with delight.
Photo Caption: (From right to left) Mr. David Mui MH JP, Mr. N. Ramanchandran and Mr. Vinod Kumar Tiwari